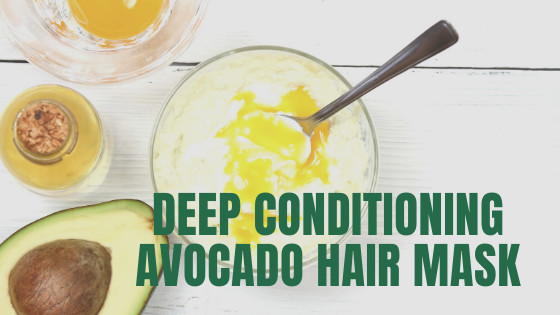 Curly hair is naturally dry. This has been my natural hair journey struggle to keep it looking hydrated in between hair washes. It seems it is always in need of moisture. 
Due to Stay and Place, I have been buying more avocados to make homemade guacamole. I don't always get to use all of them and was about to through one away when I realized I could create a deep conditioning hair mask using the over ripe avocado. 
Avocado is just all around awesome. We know it contains healthy fats. In our diets we can use it to replace other not so good fats in our recipes that require mayonnaise. I have even had chocolate pudding made from avocados. Surprisingly you can't tell the difference.
In this deep conditioning hair mask we are going to use four ingredients that you may already have in your pantry: over ripe avocado, coconut milk or coconut oil, honey and olive oil.
Avocado is a fruit rich in nutrients and vitamins that leave the hair looking healthy, shiny and you guessed it hydrated. 
Coconut milk or coconut oil is easily absorbed by the hair giving it awesome shine. Many cultures use virgin coconut oil in their daily hair routines.
Honey is a natural humectant and it helps the hair to retain moisture. So you know this is a win for me with my curly dry hair.  It may also provide soothe irritated scalps.
Olive Oil helps soften and moisturize your hair.
Recipe:
One Ripe Avocado
2 Tablespoons Honey
1 Tablespoon Olive Oil
1/2 Cup Coconut Milk
Mix all ingredients in a blender until smooth. Apply to washed hair starting from ends up to scalp. Massage into scalp. Cover hair with a shower cap and let sit for 30-40 minutes. You can also sit under a hair dryer for 15 minutes to shorten the time and increase penetration. After 30 minutes rinse hair thoroughly with warm water. Apply styling products to hair and style hair as normal.
If you try this recipe please let us know your results. It will be interesting to see everyone's results.
Recommended Nyah Beauty Products for Hair Care