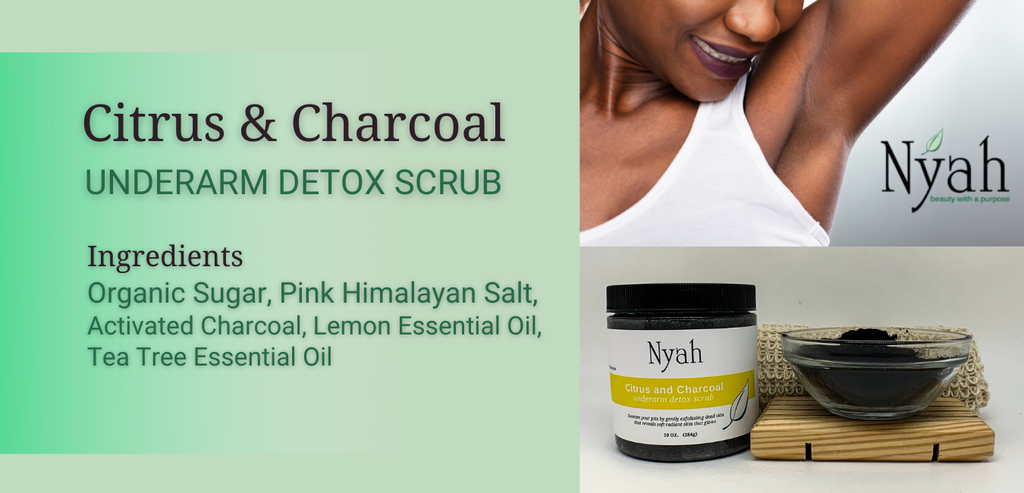 Let's be honest. Underarms tend to be a very low priority when it comes to our skincare routine. The delicate skin underneath the armpits endures shaving and deodorant. Without the proper care, this can lead to hair bumps, skin discoloration and unpleasant odor. It's time to exfoliate, unclog your pores and remove dirt from the underarm skin.
Give your underarms a treat with Nyah Beauty's Citrus and Charcoal Underarm Scrub. Our underarm scrub is handcrafted with all-natural ingredients to gently cleanse and replenish the skin. We use organic sugar, mineral-rich pink Himalayan salt, detox-activated charcoal, and lemon and tea tree essential oils to create the ultimate experience for your underarms.
The Citrus and Charcoal Underarm Scrub is so gentle that you can use it to scrub your underarms a few times a week. Glycolic acid - naturally found in sugar - helps your skin to rid itself of dry dead skin cells. Tea tree oil can be used as a natural remedy for underarm odor, while the refreshing lemon essential oils brighten the underarm skin.
You can use our Citrus and Charcoal Underarm Scrub to make a smooth transition from antiperspirants to natural deodorants. Replenish your skin and bring your underarms back to their all-natural state. Our underarm scrub will help prepare your body to respond better to natural deodorant.